We wake up to a beautiful "fresca" mountain morning. Chilly , but sunny. Route planning and rallying the troops,,always easier when the weather is good .
We set out on one of my most favorite roads in this part of Italy . A slight down hill road wining through the gorges and passed lakes . Lago di Molveno is such a hidden gem here and not much traffic all the way to Tione di Trento.
We get on a slightly bigger road here and next stop will be Bagolino. Good memories from this mid evil town located above Lake Idro and just at the base of Croce Domini. This town and this mountain almost scares me . Something that is so powerful about this and seems like we can not win this one . 2nd attempt for me to concur this during my camps in Italy , but also my 2nd failure.
We make it to Bagolino ok and start heading up. The road to Croce Domini is closed . There are two ways up and over , but we only make it to the a small mountain town called Valle Dorizzo and we stop at a cafe to re group. The lady inform us the road is blocked 5K ahead , we have to turn around . Only one way out now , back the same way we came. Well , we lost 2 hours and to salvage something its lunch time . Sometimes good things happen when you least expect it . A small restaurant opens up just for us , the host lady cooks up a storm , meats , home made pastas out of this world , deserts and coffee. One of the best lunches on the whole camp. Incredible hospitality and fresh food.
Descend back to the lake and then regroup and take the more busy way back towards Lago di Iseo , of course a few hills and small climbs on the way too. We make it to Iseo ok with a little suffering in the group and some " Sisu "needed . There is no way we can make it back to Cascina Belvedi tonight ,,,it would not be good for the moral. Also making decisions on the fly and adjusting according how the days is going is key and keeping the show rolling smoothly. We find a great hotel and everyone is happy.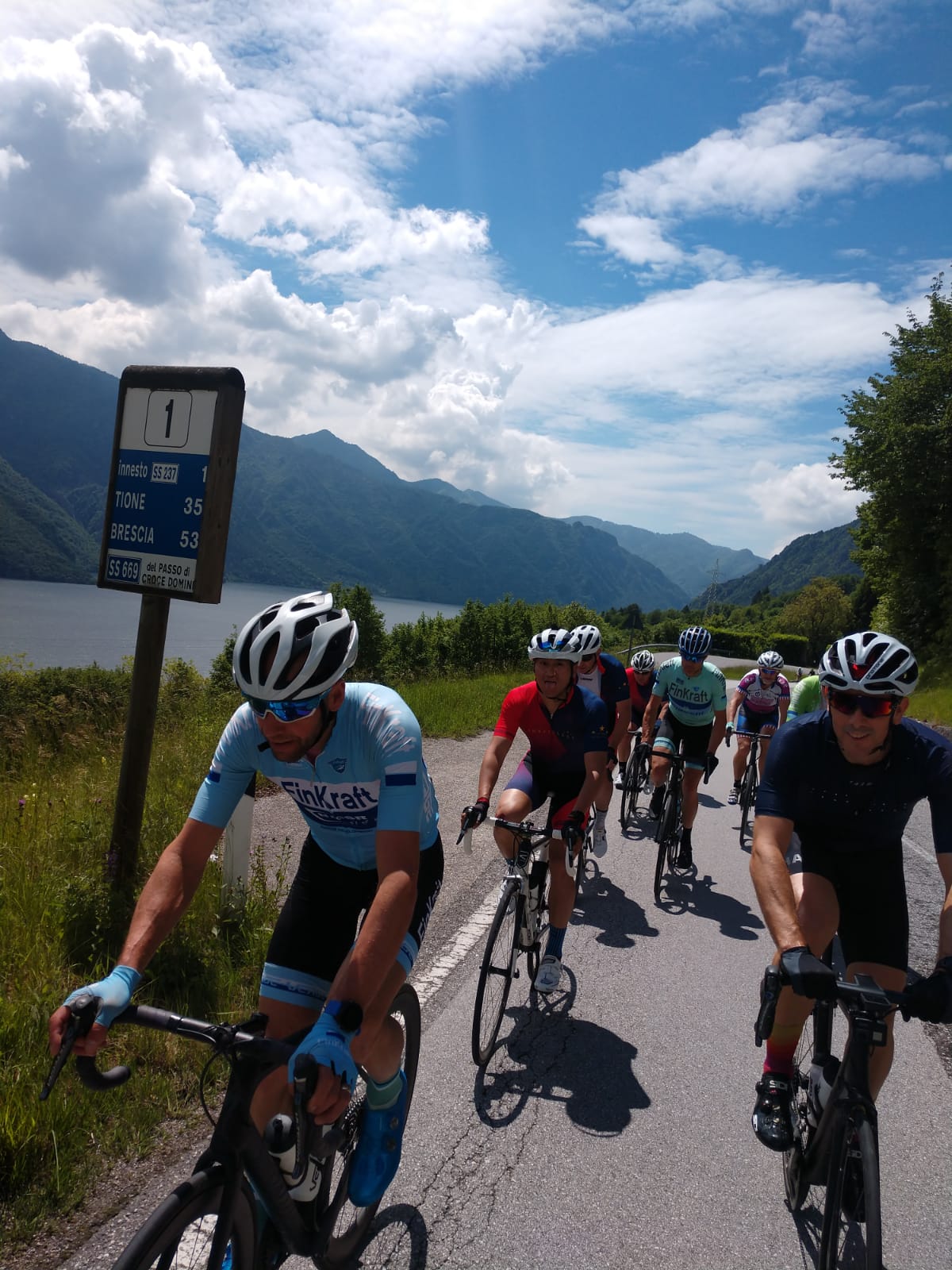 Iseo is a big lake community and we were just here last year watching the Giro. Dinner at a pretty fancy restaurant , great food , but a little over over the top in my opinion. The experience is what counts and we only live once right ?
We are close to Bergamo/ Clanezzo and tomorrow will be a nice recovery ride ( about 3 hours ) back and scenic as well. Thankful for what you can experience and see from your Bicycle. These adventure days are the trade mark for my Cycling Camps in a way and these will always be a special memory for everyone part of it .