Day 6 of our FinKraft Cycling Camp and we are officially done watching the Giro on the road , now we just ride and watch it on TV. We set out of Tirano and kind of back track the Giro route via Aprica , nice climb up this ski town and a very popular Giro stage finish . Then a long decent down in to Edolo and towards Passo Tonale. Tonale is a Glacier and there is always snow on top year around . As a matter of fact it felt like it might snow today .
Cold and cloudy , but we escaped any kind of real weather , but unfortunately a broken crank on the way up . Thank God for the follow van and no real issue. Cold on top of Tonale like I said and just a quick stop to get bundled up . I have been over this mountain many times and the weather always seems to be the same and not much happening in this town this time of the year either. A really long and gradual decent down into the valley . We are now in Val di Sol , cool roads and the home of the MTB World Cup almost every year. After making good time and not a bad place to stop for lunch .
My master plan was to stop in Clees and say hello to Maurizio Fondriest at his shop . After a flat and a little push on the pace with a nice tail wind we make it there and Maurizio is standing on the front steps welcoming us ( not planned ) Of course he has a Dura Ace crankset ( his personal ) that they install and after a few laughs and stories we head south on some amazing roads towards Trento ( Mezzolombardo ). It was getting late with all the excitement , so in my mind we should probably skip the 10K Fai della Paganella climb and take a shorter way to Andalo and call it a day . Somehow we missed the turn off and still ended on the climb that we had originally planned, blame it on the GPS . A very nice road and a beautiful town on top so all worth it and sometimes it pays off to follow the original plan even though you get to the Hotel at 7.00 pm .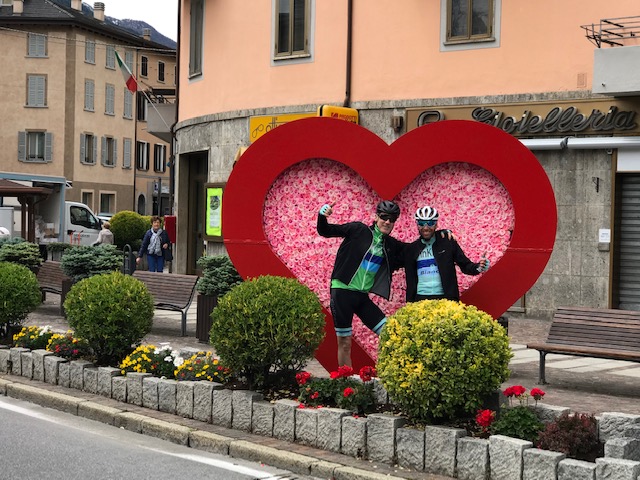 We roll in to Andalo , a sleeping ski town and nobody around . A nice hotel and a great dinner to cap off a big day in the saddle.