While no two FinKraft Italy Camps are alike, the general outline of each follows a similar formula. Last year it was the 10th Anniversary of the our FinKraft Giro d'Italia Cycling Camp which was a fantastic experience all around – perfect weather and and amazing route and group of guys. This year it will be no different , just one more year of experience and some new routes.
Each year our travels take us to the northern regions of Italy—close to the Dolimites—where we will be riding on legendary routes that the Giro d'Italia and other classic road races such as the i'l Lombardia have traversed. Given that the camp takes place in May—the same time as the Giro d'Italia—we make it a goal each year to watch and ride at a stage or two of that year's route. In years past, this has included iconic climbs such as the Stelvio,Passo di Gavia and Mortirolo. Additional events in years past have included trips to the DeRosa and Bianchi bike factories.
To enjoy and be able to complete this camp, I would recommend all riders to be a Cat 3-4 level at a minimum, with a good fitness base and bike handling skills , it is not required to be a racer though . Recommended gearing would be a compact crank-set or at least a 27-28 cassette. Total riding time will be at least 32 -35 hours or 650-700 miles in 9 days with some extremely challenging climbs and narrow roads. Please do not let these facts scare you though. It is not a race and you will have the ride of your life and a trip that you will never forget.
Those who have been to our FinKraft Cycling Camps before know that there are few places that rival the uniqueness of Italy. With beautiful scenery, magnificent roads, incredible food, and a well-established bicycle culture Italy is an ideal location to host a cycling camp. Here at FinKraft we hope you can join us for this unique experience that we promise you will never forget. Our annual Finkraft Italy Cycling Camp is always dedicate to my dear friend Paolo Zenoni.
Sponsors:
---
Pricing:


-$3,000.00 per/rider.
-Deposit ; $ 500 to secure your spot on this amazing cycling camp. Refundable until May 1st 2020. All camp fees has to be paid in full by May 1st as well .
-Spouses and non-riders are welcome, but unfortunately there will not be any organized program for non-riders. Room and board will be included for an additional cost of $1,000.00 per non-rider.
-Price will include transportation to and from the Milan airport, hotel with breakfast, dinner and complementary snacks, sports drinks for our rides and many other daily logistics. All you have to worry about is eat, sleep and ride – enjoy the experience .
-Also included is a special Italy FinKraft cycling kit. High end rental bikes are usually available for this camp at about 125 euro for the 9 days we are there. You would need to provide sizing and measurements prior to departure, but this option makes travel a lot easier, but your are of course welcome to bring your own bike too if you like .
NOTE: Air fare , lunches on the road each day ( about 10 euro/day) , a few dinners while in the mountains and alcoholic beverages are NOT INCLUDED. We do not ride or spend any time in touristy areas , so very few places to buy souvenirs which means not a whole lot spending money needed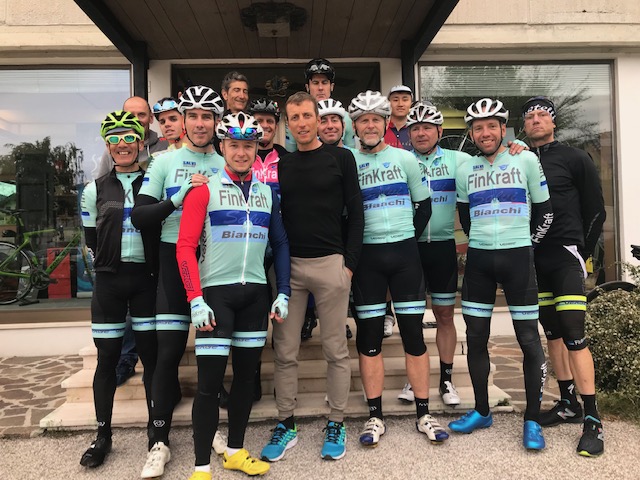 Friday: (May 22nd): Depart from the USA.
Saturday: Arrive at the Malpensa ( NOTE : MXP ONLY) airport in Milan the next morning preferably between 8.00-10.00 am. Bus transfer to the hotel, note only one pick up trip .The location of our base hotel Cascina Belvedi is right in the heart of the perfect cycling mecca where many pros choose to live and train, we could stay here the whole week and it would be a beautiful different route to ride every day. When we get to the hotel we will have lunch and a short nap ( optional , maybe not recommended ) or just relax a little. At around 1.00-2.00 pm either pick up bikes from Salvi Bikestore or assemble our own if you do not choose the rental option followed by a short and easy ride in the valley short ride leaving 3.30-4.00 pm 20-25 miles, just to shake the legs out.Dinner at Cascina Belvedi , I have been waiting for this for a whole year now -;) Go to bed at a normal time to get on Italy time schedule.

Sunday: On May 24th will be our first big ride. This route is one of the most famous rides in this region Madonna di Ghisallo ride which mounts to be about 100 miles.We will include of course Muro Sormano , this was our spot to watch stage 15 of the 2019 Giro d'Italia. This wall ( Muro ) also featured in the Il' Lombardia race in recent years. Plenty of photo opportunities here and lunch at the Madonna di Ghisallo by the cycling museum and church is a big tradition for our camps every year. This is also for sure one of my most favorite rides/routes right out of the Hotel. This was Paolo's training grounds as well and the area where he grew up and lived.
Still Planning the 2020 Route , but here is a preliminary plan for our 2020 route.
Monday: Transfer Day into the Mountains leaving Lombardy and moving into the Trento Region.
We will have the follow van carrying our luggage with Stefano as our driver and support " sticky bottles etc." Depending on weather and snow conditions , road closures etc. , but Plan " A " will be to go passed Lago d'Iseo and climb Passo Maniva into Bagolina and stay Monday Night there. Plan " B " would be Zambla Alto over Presolana to the top of Croce Domini and stay the night in Bazena . Its somewhat risky still to plan this route and we might have to resort to plan 'C " , but we will get there.
Tuesday: Goal is to and the Day with Monte Grappa
We set out from Bagolina ( lago d'Idro ) and go north of Lago di Garda via Rovereto , pretty main roads and flat and hopefully not too busy to start with so we should make good time. The next section will be mountains and up and down for awhile . North of Marostica and to Bassano del Grappa. All mid- evil towns and very cool area with castles and walled cities to keep the enemies out. We will finish the day by climbing Monte Grappa and do a loop back down and stay the night outside Bassano del Grappa.
Wednesday: Giro Day , Ride first part of Giro d'Italia Stage 17
Early Start in Bassano del Grappa and first climb will be Forcella Valbone at 1782 m , then descend into Aldeno and start climbing Monte Bondone at 1572 m. This will be about 120K into the ride , so we will probably watch the giro here and once they pass we will descend and stay the night in that region . Time and logistics will be key today , but we should be able to ride on closed roads and almost a stage of the Giro d'Italia .
Thursday : Ride First part of Satge 18 , Madonna di Campiglio and Passo Tonale
We will follow the Giro Route over Madonna Campiglio ( they start right at the base around noon , so we need to be ahead of the race. We will make a left on the other side in Male' as the Giro makes a right heading towards Merano and Stelvio. We have to climb Passo Tonale to get back , gradual and long but not too bad . If still on schedule descend into Edolo and stay Thursday Night there. Tomorrow back home to Cascina Belvedi a few route options as well.
Friday: Back home to Cascina Belvedi
Today we head back , most likely over Passo Vivione and and Zambla Alta ( if we did not come that way on Monday , I do not like to ride too much of the same roads ) then back via Zogno and hopefully arrive early afternoon in Clanezzo , Cascina Belvedi.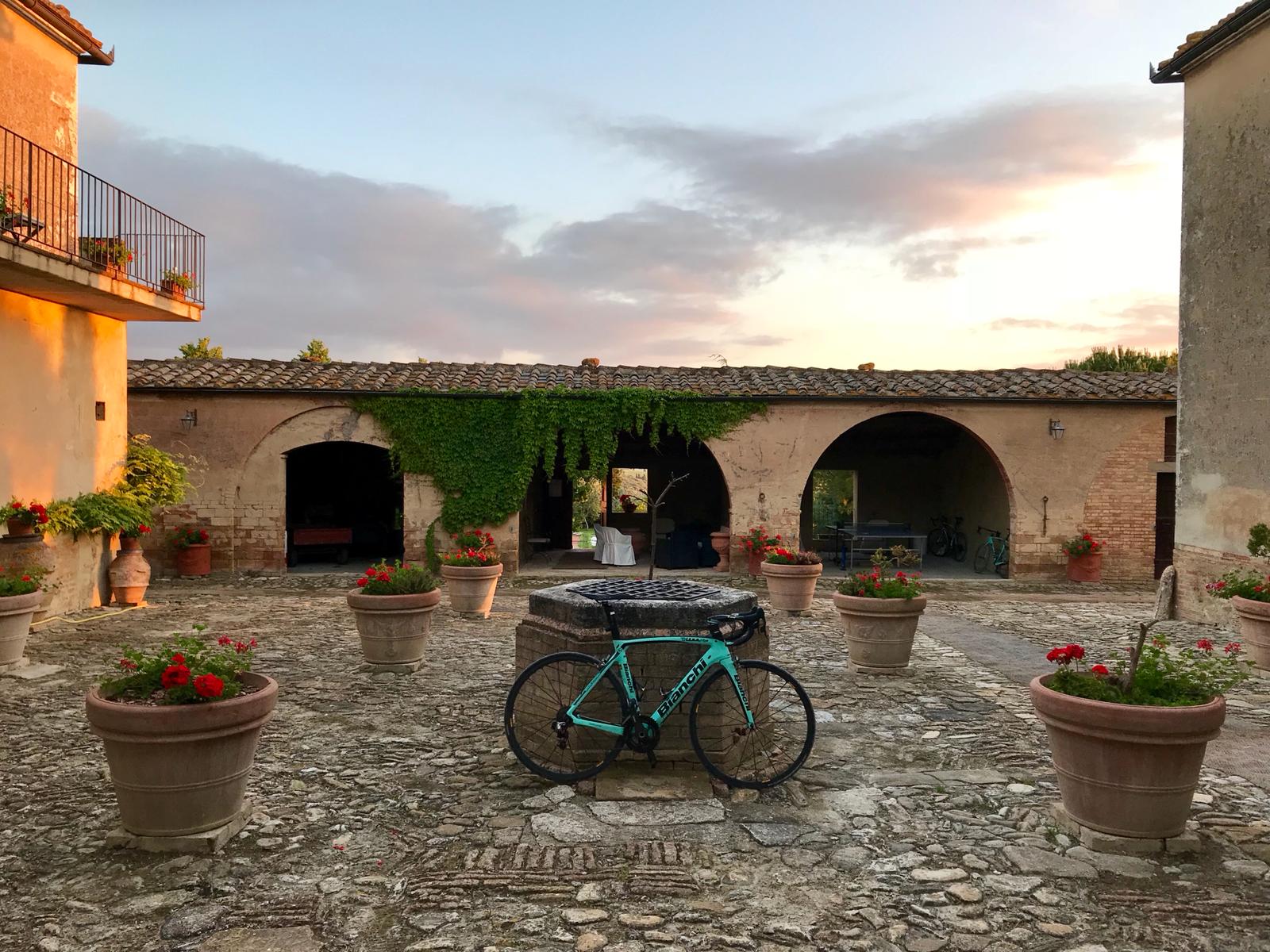 Saturday: Mortirone Day
Today we will do a really cool and scenic route to Lecco and climb Mortirone , back via Culmine San Pietro. We will make our traditional stop at our friend Tulia's coffee shop for some cake for sure and a few more stops along the way and just enjoy the ride .
Sunday: Valcava and San Antonio Abbandonato
Last ride in Italy for us and we will start off with Valcava ( a beast of a climb. We do not always get to do this one, but this year you are lucky) and then head over to Mazzoleni and pay our respect to Paolo , up and over Berbenno and down to Brembilla . Last Climb of this Years Camp will be San Antonio Abbandonato , Coffee stop on top and time to head back down to Zogno where the Salvi Bikestore is located and return the bikes if rentals and back to the hotel. Tonight is also time to pack and eat our last dinner in Italy, hopefully some more Casoncelli and Tiramisu.
Route and schedule has to be flexible due to weather and can be changed as we go , this years route will be as epic as any other year with some new climbs and roads to explore for our crew.
Monday (June 1st): Am bus transfer to the Malpensa ( MXP) Airport in Milan. Departure time from the hotel around 5.00-6.00 am, so schedule your return flights to depart 8.00 am or later if possible. If you have different travel plans you are responsible for your own transportation to the airport.
Ciao