Monday,,, Rain in the forecast and a long day ahead over a big mountain. Passo San Marco 1982 meter , so it could be snow. I do not want to give the guys too many details and try to stay positive , maybe it will not rain …or snow . Only on need to know bases. 
Breakfast and then we set out from Cascina Belvedi. Quick stop at the Salvi Bikestore and everyone is pretty bundled  and sealed up . Not really raining yet , just mist and fog. First part is a gradual inline on the newly built bike path almost all the way to the base of San Marco. We pass San Pellegrino Terme and San Giovanni Bianco along the Valle Serina river. Nice easy conversational pace . Stefano is following us in the van with our luggage on the regular road , little too tight on the bike path with a van,, a nice thing to have today.  
Still no rain and the climb goes well , only a flat at the bottom for one rider. Everyone is spread out a bit in small groups , but we all know that we are regrouping at the top lodge .. and putting some more clothes on. 
Definitely foggy , cold , wind and mist on top of San Marco. A 26K decent should be fun. A few photos and the long journey down to Morbegno starts . We even made some friends on top with a brave father & son duo from the Philippines. The 11 years son was more than happy to hitch a ride down with Stefano in the van though which probably crosses several guys minds at this stage .
Everyone made it down safe and its lunch time in Morbegno… perfect timing because now its pouring.  It is warmer down here for sure in the valley , specially in the bar ,,, but still a long way to Tirano . Mood is good in the bunch , only day 3 , so not bad …we can deal with the rain #hardmen. Once we get going , we have a nice tail wind and the rain miraculously stops . A little tricky navigating through Sondrio and into Tirano , but we made good time in these tough conditions. We are staying in a Hotel just passed Tirano closer to the base of Mortirolo. I have stayed there 3 times now , so I consider myself as a regular .  Straight forward place and nice rooms. Also a very popular hotel for the pro teams when the Giro passes through.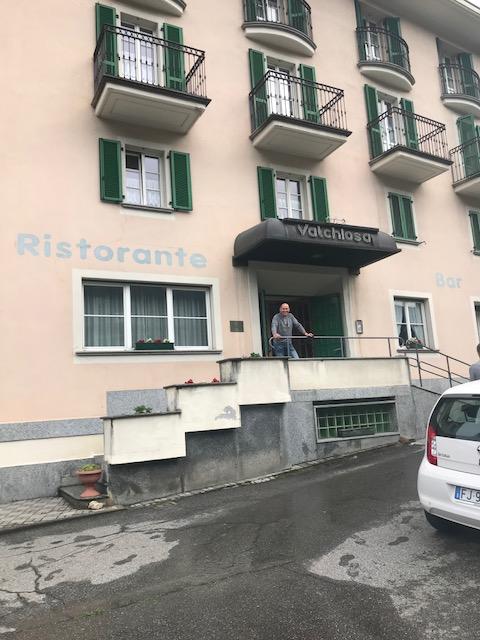 Nice warm shower and then we head down town  Tirano for dinner. We are now in the heart of Valtalina Valle with some great wins and foods. Awesome dinner and some great stories from the epic day . Onto some rest , tomorrow we climb Mortirolo, another Giro Stage Day .