In memory of Paolo Zenoni
Paolo Zenoni passed away on Sunday October 3rd, 2010 doing what he loved so much; riding his bike. Cycling was in Paolo's blood and it was only natural for him to go out for a bike ride Saturday morning, the bicycle was part of his everyday life. Growing up in Italy how could it not be.I got to know Paulo through cycling. I met him in our local bike store one day and at the time he was living in the US , practically next door . He started to race for Westwood Velo. Training and racing together became a weekly routine for us. Our friendship grew and our families became really close friends as well. After all we had so much in common, both Europeans with cycling as our passion. Paolo was just a great person to be around and I know we would have been friends even if we had not been riding bikes. Paolo was full of life and had a very positive attitude towards everything, never having a bad thing to say about anyone.Life went on and Paolo and Marni started a family. Shortly after their first son Tyler was born they decided to move back to Bergamo, Italy. In 2007 we went over and visited them and after seeing where they lived, I was so happy for them. This part of Italy is very beautiful and cycling on those climbs and roads was a dream. Ever since Paolo moved back to Italy he had this idea of me having a Cycling Camp there with him. The dream became reality this past spring and Paolo and I had our first Italy/ Giro Camp. Our small group spent 10 days with Paolo guiding us around the most amazing roads you could imagine. This really showed the great person Paolo truly was, he made this camp a life-long memory for all of us by taking us on these dream rides everyday and organizing everything else to make sure the camp was succesful and to ensure its growth for the years to come.I know that he was enthusiastic about making other people happy, something that seemed like a very natural thing for Paolo. He liked to share what he loved and enjoyed it with his family and friends, something I think that is one of the most important things in life. I am very fortunate to have known Paolo and to have become a close friend to him.

It deeply saddens me having to cope with the reality of his passing at such a young age leaving the most beautiful family behind, something that I will never understand or cannot ever come to terms with the fact that it had to happen to a wonderful person like Paolo.My prayers each night will be for Paolo's family to stay strong and may Paolo rest in peace.
I will never forget you my friend!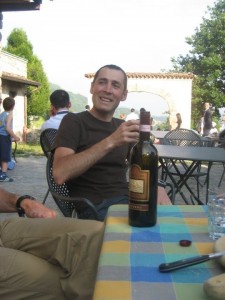 My dear friend – I will miss you ,
Roger