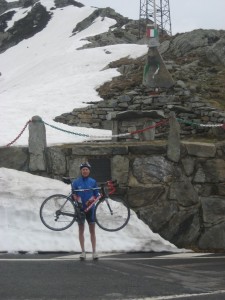 It was not fare , Kevin's bike was so light at these altitudes that he had to hold it down , otherwise it would have floated away!
Ok, the Giro is over ( well so are the other two Grand Tours ) and we have one more day of the camp left . Since we were not able to climb Passo San Marco in the beginning of the week we decided to give it an other try , but from the other side . Little overcast and the roads were slightly wet from some rain over the night, but no big deal this was not a 3 hour ride to the base this time and I personally think this is a very cool ride through the Brembo Valley .
Slight uphill the whole way to the base of the mountain and then a good hour of pretty serious climbing . The race was on right away , I think everybody was feeling pretty good after a rest day and some motivation from watching the Giro stage the day before.
I could only imagine how hard it would be racing up this thing for real , it was relentless . I had done this climb in 2007 , so I kind of knew it , but I do not think it helped much. Paolo has ridden this thing numerous times as well . We get to the top , there is still snow and we can look down the other side where we had to turn around the other day .
It felt like a great accomplishment that we made it to the top and it was a great closing to the camp , we had now ridden everything we had planned .
There is a small lodge just below the summit ( I stopped there as well in 2007 to warm up after climbing in the freezing rain for 2hours) , so we rolled down and we had a great lunch .
Laughing about the adventures we had gone through during the week and more Coke of course!
.
The ride back was nice , pretty much all down hill except for the drive to the hotel. Kevin even thought about offering us some motor pacing. A great 4 hour ride to end the camp .
A very successful week , something like 35 hours of ( mostly climbing ) riding on awesome roads with the most spectacular views. The sad thing was; now it was time to put the bike back into the box ! If Mark only could figure out why the bike box seemed smaller than it was when he came here.
There is nothing I would change about this camp and I hope when you read the entire blog about our week in Italy you get the same idea and sign up for next year . This camp is quite demanding and you need good fitness and skills , but it is also the ride of your life time everyday .
Thanks to Paolo who made all these rides possible. He also took care of the travel and lodging logistics in Italy which was perfect . Paolo was no doubt the "Man" of the camp and I really hope we can have him as our guide again next year , he even gained some fitness for himself during this week . I am very fortunate to have a friend like him , thanks again!
Fabio and Matteo at the
Cascina
Belveldi
Hotel treated us like family . Great guys and I can not thank them enough for what the did for us.
The service was absolutely phenomenal and I would not stay anywhere else in the future when we go back.
Then the food and wine they served just makes me hungry thinking about it . I rode and raced a lot this year , but it is save to say these were the best days on the bike in 2010 and I am really looking forward to do this camp again next year . Plan ahead , there will be maximum 8-10 spots available. The camp will be held last week in May again with an epic ride schedule on tap right around the Giro
di
Italia
.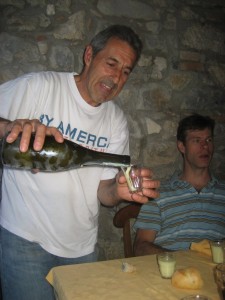 Pappini
breaking out his special
lemonchelli
, the hotel care taker and former bike racer , quite a character
Thanks for reading and hope you will be able to experience all this next year .