We would be able to to Basso and CO. twice on the roads we just rode a couple of days ago . We had a little extra time , so once in the
Valtalina
Valley , a very well known wine region in Italy , we made a stop at the
Rinaldi
Winery
The owner happened to be someone that Paolo went to school with , so they gave us a nice tour and some " wine factory outlet " discount on their fine wines .
A nice experience and unbelievable good wine . After our stop we continued to
Tirano
where we would see the boys come
thru
the first time .
This is right on the boarder to Switzerland , so we just got off the bus and walked across the boarder.
A perfect spot to watch , front row seats for sure .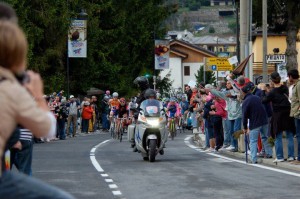 The race goes by quick even it is on a climb,
but as a cyclist you feel the chills run down your spine when the caravan of police ,advertisements and the riders of course and then all the team cars come by. The guys you read about in Magazines and see on TV is right there, a few feet away.
Back on the bus and a short drive over the mountain (
Aprica
, where they finished yesterday after going over
Mortirolo
which we also rode the other day ) Our next spot was on the slopes of
Tonale
where today's finish would be after climbing up
Gavia
from
Bormio
and then a hair
raising
decent
down to where we were in the rain .
We found a nice little bar and since it was raining a little now and it was lunch time , a perfect spot to have a bit to eat and watch the race on TV until we had to back out and see the real action.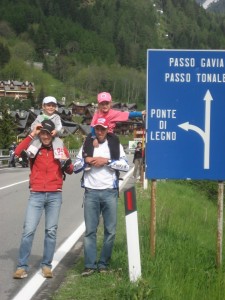 We bought our Giro
souvenirs
and took our spot on the road up to
Tonale
.
Boy , was this race shattered by now .First the guys in Pink
Then the
Groupetto
,these guys had a hard day behind them and you could see that in their faces .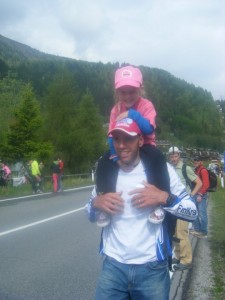 There was a lot of people here at this spot and we could feel the real Grand Tour
athmospher
, we were the '
Tifosi
" today ! A very different day , but a great memory and motivation to ride again tomorrow .
Marco Pinotti , a friend o Paolo had a good Giro .
One more day of the camp and we will get to spend that one on the bicycle again. An other great dinner was waiting for us the hotel and a nice way of ending a perfect day .I love riding my bike , but taking one day off to experience the Giro was well worth it and I hope we can do this again next year.