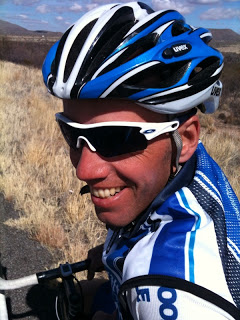 Thursday Devil's Den TT
After a nice Italian dinner at Primo's with my wife's family we finally got to my wife's cousins house (our super nice accommodations on a horse farm) and we were ready for bed, exhausted and I was thinking; how am I going to be able to race for 4 days?
Finally got some sleep (actually slept in to about 8.30 am), I do not remember when I did that in years. Some breakfast and then it was time to put the bike together. Mark at Westwood Cycle had hooked me up with a special bike box for my Giant Advanced SL, ISP (would not fit in a regular box with the seat mast) everything went smooth and no damage from the flight and I was ready to go for a spin and shake the legs out.
Nice roads and no cars, the legs actually feel pretty good, a nice surprise I guess.
I will race in the afternoon everyday, so for late start time races like this, I try to sleep a little later and eat a light breakfast when I get up and then 2-2 ½ hours before the start eat my second breakfast, but now my Country Choice Organic oat meal with all the special toppings J. It works for me and it is a very solid meal any time of the day J!
My wife's dad lives here as well, so he was kind to run us around and let us use his 'Hot Rod" pick-up truck as well. Off to Devil's Den and start the warm-up for the 9.00 min effort, a Pro racer broke 8.00 min, so breaking 9.00 would be awesome! Spoke to Beamon at the bottom of the hill and he said it seemed a little faster times this year, tail wind? It is not that steep, but consistent and no switchbacks. It is pretty hot by now, I have no idea who I am racing against, so I am just going to do my best and see what happens. I paced myself pretty good, but did not feel all that powerful, caught two guys, but that does not mean anything, dizzy crossing the finish line @ 9.06 which put m in 8th place or the day. Still in striking distance, but would have needed another 10-15 sec.
Friday, the 110-mile Road race, one big loop and a cool finish in the middle of Fayetteville on Dickson Street. Tour style I guess !
I still do not know who is who in the race, but I wrote some # down on the stem and kind of figured out some teams that looked that they had some firepower. This really put my " reading the race skills to the test". The weather is nice, but windy as hell. I was hoping nobody would know me either and maybe get into a nice early break J. Well that was not going to happen, it was like I had a red flashing light on my helmet every time I attacked or bridged to a small break, so that was a no go! All it did was open the door for a few guys to counter and get away, but the big teams were not in the move, so I was safe and I decided to wait. The wind was brutal and the course was just rolling until about the first feed zone (the 47 mile mark). Nice climb and the group split up, I was surprised and pleased at he same time. Got my bottles from my wife and just continued being patient. It all came back together with 2 guys 4 min out front. The Mercy boys and a couple other teams were on the front now and we were approaching the longest climb of the day, about 7 miles, but nothing steep, just kind of rolling, but I was looking around and seemed like they were hurting. It was mostly a big ring climb. I looked at the Cateye and we were almost at top, so it was time to go in my book!! All or nothing, I attacked hard and a good gap opened up, I see one guy coming across, but that was it. We caught the beak immediately, one guys was done and we just blew by him. We caught the last guy and he was able to latch on, amazing. We needed him for sure! 25 miles to go in a brutal head wind, we were going as hard as humanly possible 27-30 mph, some places less J!
We built the lead to 48 sec, but the chasers were not giving up, it went down to 35 sec. The moto was very good giving us the splits, but the early break guy was no all that sparky anymore and not contributing all that much. When I commit I will never give up until they catch me in a situation like this, so I am burring myself at the front and so is Robert ( the eventual overall winner) , we make it thru a very hard sections ( almost like riding against the wall) and we see the town , very cool finish , but with a few leg breaking rollers before we make that last left hand turn onto Dickson Street . We lost the 3rd guy and it was just two man up sprint to the line, I still had some left in the tank, but not enough, 2nd and a time bonus with a gap to the rest. A good day and feeling strong (not like on the TT).
Saturday, the Hog Eye Circuit race.
Wow , two Fins in one picture( 748 Janne Hamalainen) and me !
This course I knew and it has a pretty good hill in it , so maybe this could be another day for gaining some more time. You ride out to the 23 mile loop and then after 3 loops you ride back to the start/finish. The problem here is that it is about 35 miles almost downhill or flat rolling terrain to the finish after the last time up the hill. The first lap was crawling, one guy goes and puts 4 min into us again, I will wait and see how these guys will race . Nobody seems like they want to race, steady pace, but pretty slow and no attacks on the hill. The only way for me or Robert (yesterday's winner) to be able to get away was to go all out on the climb on the last lap and drop most guys. A good plan and we tried , but it did not happen and right the 35 miles from the finish we all knew I was going to be a bunch sprint . Now they just needed to catch the lone break away guy, he was sticking it out , but no chance today . Caught him 10K to go and now it was just matter of staying up right and finishing with the bunch. Not a hard race and did not really feel all that spent which was a good thing. Little Mexican food and a beer to cerebrate my step daughter's graduation from college right here in Fayetteville , AR. Congrats to Megan !
Sunday the 12 turn crit down town Fayetteville.

A super technical crit course and some climbing as well as you can see!
Watching the Pros right before our race I knew this was going to be hard. It was mostly single file and positioning was the key in this race. Once we got half way thru and the field was thinned out to about a 1/3 it was nice. Very smooth and fast with all the best riders left. It was a fu crit and really enjoyed the technical part of it and the hill each lap really sorted out things . I had to ride away and finish with a gap to win the over all, but at the same time I did not want risk my 3rd place either. I attacked a few times up the hill , but it wasted a lot of energy with no result, so my plan was no just to stay up right and try to finish well. The two last laps were so fast that there was no moving up anywhere , with only 15 guys left at the end I finished 12th , but same time as the winner , so no time gaps and kept my 3rd place in the GC .
All set and done ! 3 young guys on the podium !
Thanks for reading , Bear and Italy next !
Roger