It is my birthday and I am sitting on a plane to Milan, Italy with my wife, Finley and Megan, my stepdaughter…they are all really cute and adorable!!(My wife wrote this part!) Raced the Thursday night Worlds last night at Rochleigh, (my race # was 42, funny! that is what I am today) A great training race by my house and it was my first race on my new training bike,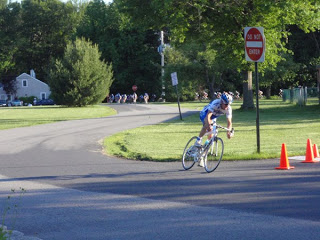 Giant Advanced , a great riding bike and plenty fast for training races and riding around Italy.
It was a big turn out and quite a few fast ones showed up; some times I think these guys take this race more seriously than the weekend races. It is fun and I can ride there and back home after, how can you beat that! Most areas have these races during the week, I think it is a good mid week speed workout (if you are looking for one) and just a great time to turn the screw or just hang out with the local Hammerheads for an hour. For me it is a chance to race with a lot of my clients and see them in action.

This week I also got the TT bike I have been waiting for a long time, a Giant Trinity, the super tricked out rig that Menchov rode in the Giro last year, so I had to take it out for a few spins before we left to get used the new machine and after a few modifications with the handle bar set up, decided to go with the L shape extensions " Contador style" it seems like a very good set up, we will see in the CT stage race when I come back. Now the rear Super 9 and the front 1080 is just missing!
Packing everything and doing 100 other things in the morning seems like a routine by now and within a few hours the bike is in the box and a special suit case packed with a lot of supplies for the camp from Accelerade
(the bottles arrived by Fedex , always on time, just as we were loading Eric Carlson's airport shuttle, thanks Justin Fink at Accelerade!!) The usual 5 piece luggage + a car seat for Finley, could not have fit one more thing, my wife has this figured this out by now and checks everything in before we leave and guess what, it was only $ 50.00 extra, nice job! I guess that is why we are married!
We fly to Brussels, Belgium first and then eventually to Milan, the other camp attendees will already be there by then and Paolo will have them situated in the Hotel in Bergamo. The action does not really start until Sunday, so Saturday is just a day to put the bike together and shake the legs out from the trip over. A 6 hour time difference and an over night fight plays tricks on you and you do not feel all that sparky the fist day, let's see how we adjust this time around, it is not like driving the Massachusetts for 3 hours.
Ok, dinner is done with and nap time, 3 more hours to Belgium!

An update from Italy will follow each day , so do not go any where !
Roger