This is what it looks like from our house in the morning , not a bad view to wake up to !!
Since we are doing all the rides all over again ( man I have to ride up Mt Lemmon 6 times before this thing is over ) I am just going to update you guys on cool events that happens along the way .
Sunday , rain and cold all day!
Little antsy for the new guys, lots of snacking , getting settled and resting from travel ( means a little recovery for me and Kyle too) , you can sense the restless feeling and everybody wanted to get out for a ride . I would have ridden for sure , but it was just nasty out there all day . So we made the best of it and watched the Olympics , the 50 K classic style XC race , awesome race !! Way to go Nortug, amazing sprint ! Good time to get to know the guys and let them know will be on the menu for week .
Monday , perfect day . Not a cloud on the sky and a good day to start the 2nd week . Flat ( or some what ) Tombstone and Bisbee. Nice group and a very smooth ride , no problems at all !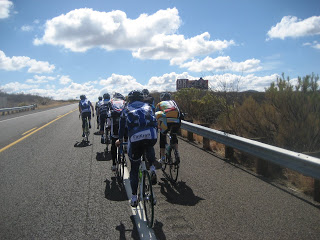 Heading towards the OK Corral , once again.

Here comes the train !
Last hour a 11 man pace line at a 25 mph + , so drilling it ! Great way to go from Tombstone back to Walmart in Benson. ( remember to check out
people [at] walmart [dot] com
sometimes) A couple of guys had some beans and rice in Bisbee , I never had that on a ride before??? , go figure !!

Clean all the bottles and
a great dinner, I will never eat out again , the food is just awesome ! After onto reviewing of some files and post ride talk on the screen to make sure we all started off on a good note ! The weather looks solid for the week , that is all that matters ! There is snow and sleet in the forcast for the east coast one guy said , oh well -:) We will see some snow tomorrow on Mt Lemmon , but it will be 70 dergees at the bottom.
Roger