Hi ,
Another camp under our belts or should I say Grand Tour. In AZ we ride every single day with the clients for 3 weeks straight about 30+ hours each week. This year we did 2 weeks on the road in Tucson and then moved up to Sedona for our last week in AZ and debuted our first Mountain Bike Camp . In Italy last year we managed to log 43 hours of riding in 9 days . I think that is pretty as much as anyone can handle , specially when we go uphill every day and the hills are no bumps in the road. The Italy camp is meant for people who race on a pretty competetive and high level ( a good cat 3-4 range), so you have to have good fitness going into this camp and hopefully it will not break you and you will come back home swinging .
Note , they even have pink snow on Stelvio!!
This experience is something I would never trade for a race , it is a feeling that is hard to describe . Cycling is a lifestyle to us and doing this camp is like going to Disney World for my daughter. We are there to ride our bikes and there is not much else scheduled each day and nobody even mentions or talks about doing anything besides what the ride plan is for the next day. It is a great feeling when you finish a 7 hour day over some spectacular mountain passes and sit down to a 3 hour Italian dinner with some unbelievable wine and food . Some people might think this camp is a tourist camp , ride a little and then wine and dine at night . Well we do see things while riding that most people would have to get on a bus for and yes we eat a lot , but how many tourists do you know that burn 7000 calories / day ?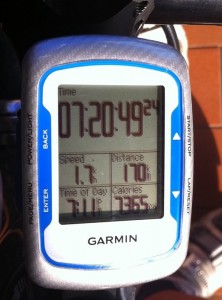 The trip to Italy is not easy with the bike box and some extra luggage when the airlines rapes you for everything , but the trip goes pretty smooth though, key thing is to pack light and have a direct flight . We have a bus lined up for picking us up from the airport . It is important to coordinate our flights, so we all get there about the same time , which is key for things to go smooth . The Bus trip to the Hotel Cuscina Belveldi is about one hour without any traffic. It is understandable that we will be tired after an overnight flight , but very excited to be there and ready to go for a ride . It feels so different to jump on the bike and ride here than at home , small streets and switch back climbs right out the door from the hotel . Most of the time legs feels pretty good all considered on our first ride .After the ride we are just looking forward to our first Italian dinner . I am waiting for this moment since last year. If it is as amazing as I remembered and it will be hard to stop eating for sure . After a great first day we will needed some sleeeep though for sure!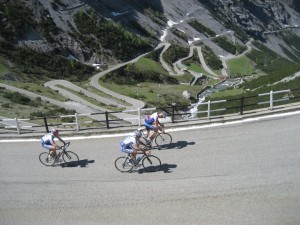 The plan for Sunday is to ride about 4 hours , ease into the camp . We wake up and have breakfast , last year Gerard even got a chance to show the Italian cooks how to make some Country Choice Organic Oatmeal , not a common thing to eat for breakfast in Italy , but who can live without oatmeal ? We are ready to kit up and get on the road . There are so many routes and great roads to ride on right out of the hotel . The next 4 days will spend in the Brembo Valley and Lake Como area . The weather is obviously always a factor and we have to be flexible. The Giro has gone by here numerous times and we will be riding on those same roads as well as on the roads where the Giro di Lombardi goes in the fall. Last year we watched the stage go over Passo di Ganda right in the back yard of our hotel finishing only a few miles away by San Pellegrio Terme. One morning we will start the ride a little later and pay a visit at one of the local bike companies , Bianchi or Colnago.
The plan is to ride up to the Dolomites on Thursday morning over Passo san Marco into Valtalina Valley and spend the night in Terrano . This is in the valley of the legendary climbs like Mortirolo, Aprica, Gavia and Stelvio, etc.
Saturday is the big stage up Stelvio and we do not want to miss that opportunity , so Saturday ( May 27th) morning a ride and end up on the slopes of Stelvio with the rest of the Tifosi is the plan.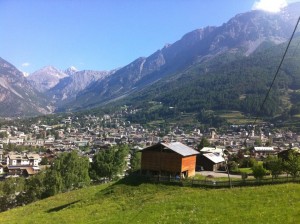 Spend the night in Bormio and then early Sunday morning start climbing up into Switzerland via St Moritz down back towards Lake Como and back to our base hotel in Bergamo . Long day , but I am sure a nice ending to our camp . On the last night in Italy we will enjoy a nice dinner again at the Cascina Belvedi. Pack up our bikes and get ready for departure back to the US on Monday morning.
This is the basic ride plan for the 2012 FinKraft/Giro Cycling Camp , as I said earlier the weather is a big factor and we have the be flexible . It will a lot of uphill, long miles and good times on the bike and when not riding soaking in the Italian culture as much as we can .
For more details on this years camp go to ;
Like I also said in the beginning this is a very select camp , but we have room for a few more riders at this point.
Ride on my friends .