FinKraft will once again host a training camp in Tucson, AZ in 2012. This
is a perfect opportunity to build your base fitness and train like a pro with all the support you will need to do so. The minute you sign up you are committed to start training for your training camp, so the one week you spend with us riding 30 + hours has a very long term affect. You train to be in shape for the camp, once there you have the opportunity to just train, eat sleep/recover and this a tremendous boost in fitness, so when you come home you will be on a high and motivated to start racing and continue training. In other words this one week camp can have a several month effect on your fitness and motivation.
Most of you know I had a very bad crash in August at the New Hampshire 100 MTB race and the severity of my injuries has made the decision to have the FinKraft Cycling Camp in Tuscon in 2012 a difficult one. The FinKraft cycling camps, both in Arizona and Italy, are a trade mark of FinKraft and more camps are in the plans for the future. After carefully considering my condition and being very optimistic about my recovery, we have decided to go ahead with the 2012 Arizona cycling camp after all and it is time to sign up, because the camps will fill up fast. Start of camp is less than 4 months away and there are definitely still many uncertainties about my condition but the neck brace is coming off shortly and I've had my first indoor ride on a spin bike equipped with PowerCranks of course! I am going to very honest with you and say that riding with you every day at the camp might not be possible. This does not mean that your cycling camp experience could not be better than that of those who attended the camp in 2011. The service and the famous FinKraft hospitality will be at the highest level again and I will be next to you guys every minute of every ride, either on my bike, on a scooter or in a team car to assist and lead you. If I am unable to ride, I can offer an even more pro-level service with wheel support (wheels-in, wheels-out, just kidding), handing you food and drinks, video taping and much, much more. We will make every day a pro level experience for you.
The ride schedule is pretty standard and proven here in Tucson. Sundays is a meeting and greeting day, airport pick-up and drop-off's.Room assignments and a briefing about the camp and etc. A short ride in the afternoon over Gates Pass with a short loop to loosen up and check bikes for proper function and we are ready for our first dinner. The week will be a mix of climbing days, long and steady, and flatter roads with some wind. Well there is a little wind every day or more some days.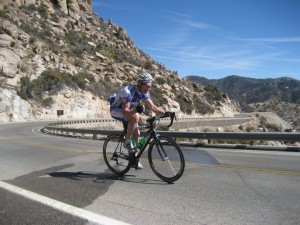 Mt Lemon is just an awesome climb that we can do anything on. Endurance, tempo or even some harder efforts if we wanted to. On top we get experience the altitude and as a reward the gigantic cookie is always waiting for us. There was a lot less snow last year and let's hope we have the same luck in 2012, so not too cold and the decent back down is just a blast, 30 mph for 45 min with nice sweeping turns in other words free motor pacing.The Mt Lemon is such an awesome ride that we do it twice ( each week)
The Benson-Tombestone- Bisbee and back is a great 100 mile ride. Perfectly spaced stops and not too much climbing, just open roads in the desert with two really cool towns on the way. Pretty epic ride with the wind and the distance. Bisbee is just a cool laid back town and a perfect turn around point with a bakery to fuel us up for the ride back. With Tombstone as a half way point both ways, a real western town still alive. Then we have the Ora Valley- Oracle – Mamouth and back. This is the famous Empenada ride, with the 11 mile decent into a canyon where the one horse town of Mamouth lays.
The one problem is after eating 3-4 freshly baked apple or pumpkin empenadas we have to climb back out of the canyon. Easy day though and back a little earlier than most other days. A perfect mid week ride with a little more time in the afternoon to have a presentation by an bike industry rep etc. Then we have the Queen stage, the 6 hour + ride from the house( base camp to Kitt Peak ) we do a little later in the week to test both our mental and physical strenght. Kitt Peak is about 6700 feet, a 12 mile climb, steeper than Lemon and about 45 miles to get to. Of course there is a fun downhill involved, but the ride back is not easy with Gates Pass and back to Casa de FinKraft. You can see what an accomplishment and satisfaction each rider shows on their faces when they roll back into the garage. For dinner that night we have lasagna and lot's of it -:). The whole week is about training over extending with proper rest and nutrition to really boost your level of fitness. This point of the camp is when you start feeling the miles, but also realize that you can Do It ! It is almost like you go through a transformation and you want more of this good stuff. As a reward we will go up Mt Lemmon on Friday again and you would think we all have tired legs by now, but that is not always the case. We know the climb now from doing it earlier in the week, so I think that helps us judge the effort and it is a lot of fun reaching the top a 2nd time in one week. Then there is the finally on Sat. Early wake up and down to Starbucks on University boulevard. Not to have coffee, but be part of one of the most famous group rides in the US, the Shoot Out. This is a fast and very big local group ride that some time could be more than 200 riders of all different levels. You might have the chance to ride next to some well known pros and measure you strenght against some really fast riders, kind of a taste of racing and a nice way of ending the week. You do not have to win this ride and please be careful, it is not worth crashing in early March. We all meet after at Starbucks again and ride back to the house.
Saturday of the camp is a great day. A great sense of accomplishment and a great afternoon to hang out by the pool and reflect of what we just went trough on this amazing week.
Time to do a little packing and then have some pizza and a couple of beers while watching some pictures and videos from our rides we did the past 7 days.
If you have done these camps before this blog post is very familiar and maybe it is something you are looking forward to again. If you are thinking about attending the 2012 camps, read and watch some of the pictures or blogs from the past years and that should be enough to get you excited for sure, I am excited just writing this and I am thinking of ways how we can make it even more exciting every day.
Hope to see you in Arizona this spring or later in Italy.
Thanks for reading,
Roger