These shoes are made for walking…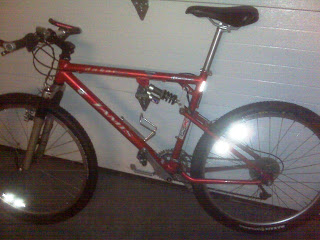 1994 Jamis Dakar
I have not written a blog in a while since I believe that my training routine and cycling life are for the most part consistent with those of others who read these blogs.
For weeks I had been contemplating taking Roger up on the offer of joining an MTB group ride on a weekend. Too fond was I of the many good rides in the past and too obvious was the fact that I was ready for a little changeup in my training routine!
The previous week he had called me on Sunday AM at around 8.30AM to inform me of the ride which was about to take place that same morning (about 9.30AM). This would have been perfect, except I had not ridden my mountain bike in some time… Down to the garage I went and I looked at the machine. There she was…sitting there in the corner, neglected and forgotten but surely worthy of my inspection….
My jaw dropping 1994 Jamis Dakar full suspension rocket (Fox piggy back suspension and Judy Rock Shox XC – see photo on top) was sitting there with two flats, an inch of dust on the frame and tires which I had changed to be "non-nobby" to accomodate a weekend ride on the road with my wife in the Finger Lakes some time ago.
In short…I was not going to be ready within the hour. Bummer. I ended up doing an indoor trainer workout that morning, but surely troubled by the fact that my material was to blame for a missed fun ride. This wasn't going to happen again.
I had a week to get ready and I did. I changed the tires (these suckers were resilient), Roger so generously had supplied me with, and did a quick do-over on the bike and … I was ready!
This time the destination was the Lewis Morris State Park near our friend Troy Kimball in Randolph, NJ. I knew in advance from the people attending this ride that it was going to be a hard enough ride, but I had no problems with that. My fitness was good and I knew that I could hang since I had done so with my brother in law who is a respectable Mountain biker himself and we battled together – he with his poison green Gary Fisher Supercaliber and me with my Jamis Dakar. When we rode, and it has been admittingly some time ago (you guessed it), we felt like the real deal flying down single tracks in New Paltz, etc.
But this is 2010….
The first thing that caught my eye, and I had somewhat suspected it prior to my arrival, was the fact that everyone had mountain bikes that are much, much newer. What made it so much more obvious was the fact that Adam Duncan's bike was also a Jamis Dakar but about 15 years newer. The color was pretty much the same, but that was about it. In envy I looked at everyone's material and realized that I was going to be the "retro guy" for the day. I was lucky enough that the temperatures called for shoe covers which saved me the guy's comments on my MTB shoes (see photo above) – the Model T of MTB food wear. I did not share with them that my shoe laces broke as I tied them in Troy's basement (I did not believe that their's had laces!)
Off we went and after I got adjusted to the terrain and the bike I have not been on in a while, I felt really good. It did strike me as strange that everyone was going up the initials dirt climbs (mostly ice) with relative ease, while I was slipping and sliding. Until finally Jim Vreeland pointed out to me that both my Maxxis Larsen Tires were mounted in the wrong direction in…In other words I had no grip. All I could do is change the front wheel to comply and off we went again. I could hang with everyone just fine and I was happy about that.
As I went down the hill in one section I noticed that my "trusty" Avid front brakes had left me hanging and down the ditch I went. I thought, good, nothing broken and all the trees are still standing; as I made the walk back up to the trail I realized that the bunch was not there any longer.

Result from my escapade in the ditch
I did not know my surroundings so I started pedalling frantically since I had seen enough episodes of "Man against Wild" not to realize that you don't want to be in the woods in the dark, especially if you don't know the woods. I forgot my phone and frankly had no food either, since I had taken off the outer jacket shell prior to the ride, which would have contained both.
After about 10-15 minutes I was not sure anymore whether I was going in the right direction, so I went back and eventually found the guys who…came back for me (yeah!!!!). I tried to be as relaxed appearing as possible and gave them a much cooler greeting in relation to my inner excitement about being reunited with them once again. (Hey, what's up…? :-) )
We rode a total of about 3 hours and I felt great. We all did!
Summary of the day: go out there and "just do it" – you may encounter surprises but at the end of the day you likely will have had a blast!