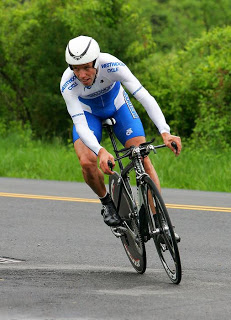 I have not done any TT's this year yet and that is something I always think is cool, "the funny bikes"( can not wait to get the new Giant TT machine once available) just makes you feel fast !! I ride my TT bike once a week, but no crazy TT workouts to talk about! I am a break away guy in road races, so that is my TT training! I could probably improve quite a bit on this department, but I try not get too obsessive about TT's!! Mark @ Westwood Cycle hooked me up with some new cool carbon Dura ace brake levers and a Syntace carbon wing this year on my TT rig, I also switched from an 808 Zipp front wheel to an Hed Tri spoke front wheel > looks very cool <>it is all mental!!! Then the icing on the cake, I am sponsored by UVEX this year and they hooked me up with their super cool aero helmet FP 2 TT!!!
Mark has been my biggest sponsor for the past 10-12 years of my racing career and still is the most instrumental guy behind all the cool bikes and equipment I am so lucky to be able to ride and test out > with out Mark and Allan @ Westwood Cycle I would not have had the success I have had in bike racing for sure > bike racing is such an equipment sport and if you do not keep up with the technology your are beaten before the start!! Any little thing helps, but the help I get from these guys is no comparison to others!!
I checked out the TT course forehand with my clients/buddies <> that helped all of us , it was a lot of turns and up and downs!! Liked it!!
The race ; I had Mike Rosenhaus in front of me , so a good carrot!! I never had time to put my SRM on the TT bike (which is a plan for the future) so I just went by feel, speed and cadence, which was not a bad thing on this course!! I felt pretty good and I did not really hold back anywhere, but also did not really fade either> the hardest part was the Readington course, a slight down hill roll> go figure!!
21.20 a thigh with the TT master Will O!! 3 sec off the course record!! I know where those 4 secs went!! Readington course!! Bummer, but it was fun hanging out and a good leg opener for the next day Bear Mountain race!
Bear mountain is always somewhat an important race to all of us, it is right in our back yard and we ride there all the time > I was telling Evan Cooper while pre riding the course during the week that I have probably done over 200 laps there over the years > so I guess you can say I know the course> no excuses there!! The race is hard to read, you kind of have to be on top of things at all times > it is hard to bridge late in the race if you missed the move!! There was a couple of bigger teams and also a lot of young guys that I do not see that often, but otherwise nothing out of the ordinary <> it happens a lot of times to me in the masters races > it makes the race very negative and a lot of times there will be guys up the road that are not even that strong. This year it was little of this going on the first 3 laps > I just waited!! I wanted to make sure every major team had some guy up the road, it really did not matter who at this point> on the 4th lap there was a few attacks on Tiorati Brook rd, but nothing got away, after that a few guys start trickling away and next thing you know , my plan started to look good <> flat and easy <> we drill it pretty hard and in 2 miles we catch the rest and we have a good gap on the field, so now it is time to commit!! I look at the guys in the break > two bigger guys, I was think maybe not the greatest group to be in!! Not very impressive!! Gavi was by far the strongest and he was willing to work and so was I! I always race hard <> you are in a Pro 1 2 race, there should not be any sitting on or soft pedaling if we have a chance to stay away!! So Gavi and Myself keep the pace up on the hills and the other guys sit on!! We try to get them to work on the flats > kind of half hearthed efforts > helmet straps are white from salt and a lot of drooling going on!! Does not look good!! I make the first attack on top of Tiorati and we drop 2 out of 6 > the come back and are pissed!! I tell them to work or I will do it again!! Next attack was by Gavi and 2 get dropped again!!
Now it looks good, but Pojo and the Empire guy (Clayton) still does not contribute much!! Last time up the Tiorati (the 7th time) we are going kind a of slow again and there a few new guys bridging. We were never that far ahead of the peleton, with all this conserving bull going on !! So next thing you know there are about 10 guys in this break and nobody still not wanting to work!! Some attacks, I am just following and not doing anything> we come past the feed zone and about 1 K or less to go <> I get caught right on the line !!! Oh well I tried > No Nature Valley spot <> then a little R&R (my friend Mike Calderone's wedding). I am looking forward to the next couple of months of racing > made it thru the spring races with some good results! Not sick or injured > still a lot of room to improve on the race fitness!!
Thanks for reading and from now on you can follow my life as a racer and coach, I will try to keep it interesting!!
Until next time!