Tuesday,
I think after the Passo San Marco 8 hour spin , some sort of an easier day was on every one's mind.
A 3 hour recovery ride sounded right . We started our ride to the local bike shop, Paolo's bike shop in other words the Italian version of
Westwood
cycle.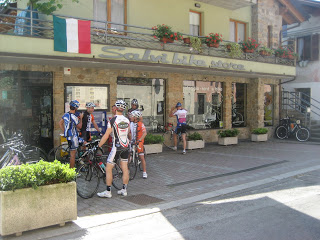 Super organized and nice European style shop called
Salvi
's .With all the connections to the local bike manufactures as well , so it looked good for us to be able to visit one later this week( maybe
Colonago
,
Bianchi
or De Rosa ??)
We are like kids in a candy store and me and Kevin ordered a pair of
Sidi
shoes, colors not sold in the US, the blue and white Ergo 2's!
A must have, to stand out back home in the local races. We all have our bikes looked at by the bike mechanic and he takes great care to get rid of the creaking and noises we all have in the our bikes by now, especially my bike, with stuff being loose and basically falling off! Mr.
Lugiano
Moreti
, the owner of Paolo's team and also a sponsor of the U23
Cyclisti
Begamasca
team as well, is already at the bike shop and ready to go for a ride with us.
We ride past the hotel and head up towards Paolo's house into
Almenno
Valley, but we take a left onto a 15 K recovery climb . The road goes up to a radio tower( Paolo old us to not use our cell phones , apparently it was a risk to get your phone fried???) and it is a nice big climb right in our back yard .
We can see our hotel on the other side of he valley , a nice comforting feeling on a recovery day!
This camp's one and only mechanical strikes Jon , the small chain ring buckles and that is the end of his ride , he limps back to the hotel in the big ring and then back to the bike store to get surgery on bike , since it is a
Zipp
crank it is not an easy fix with
Zipp
parts like this not that common around here.
We continue our recovery climb and we reach the top were there is a nice lunch spot at Valcava, nice view once again , not just mountains !
There is also a lake with some sunbathers at the top of the mountain, if you know what I mean and once again this camera is not that good!( I hope my wife does not read this !) After some
Panini's
we head back down and decided to stop by Paolo's house to show the guys where he lives . I beautiful place right at the bottom of the switch back we just came down ( another former Giro decent) , still an incredible view of the Valley right from his yard. Sultan was happy to see us ( the dog) as well .
We rode
through
the town of Sant
Omob
ono
, back towards the hotel , still plenty time left of the day to enjoy , but first we had to climb up our drive WAY once again , loved it !!
Quick change of clothes and a recovery bike wash for every body. A good day and ready to go again !
Of course we needed a good meal first and some R 5 ( vino rosso) , and a good meal would not be without some Casincelli ravioli!! Tasty !!
The day goes by fast , but it was a great one and tomorrow will be the Queen stage of the Camp, we are leaving early for Tirano to do the Mortirolo and the the Gavia Pass , so let's hope it does not snow !
Ciao
Roger