Sunday 5/23/2010
Well, it was either this road or the Killington stage 2 TT, but since we were here in Italy this one made more sense -:) Had to rub it in a little !!
It was time to go to work ( riding I mean -:) ) nothing else to do , so a perfect day for a bike ride!
I slept like a rock (I wonder why -:)) I think about 10 hours. After breakfast Italian style; about 3 different coffees (Americana, cappuccino and espresso) and tea with croissants, cooked ham, cheese, bread, yogurts and yes; Nutella . A little different from we are used to at home, but I decided I am not going stress out about not having almond butter and Trader Joe's stuff while here , so we are going with he flow and enjoying the superb service provided by Fabio and the Hotel owner Matteo.
The traffic was not too bad , since it was Sunday , so we got a chance to ease into the rytmen of narrow streets and a round abouts every mile filled with little cars and scooters. Bike handling skills are a big part of this camp as you will see !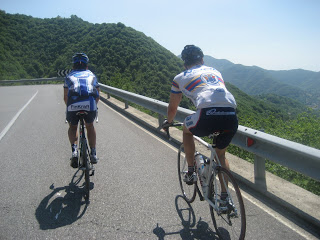 To days ride plan was a 4-5 hour near by the hotel. It turned out to be an amazing route, thru the out skirts of Bergamo up a 10 K climb up to the town of Selvino, a very nice view and an awesome switch back climb.
A nice way of enjoying the view!!
Past the nice little restaurants at the top and then a decent down into Brembo Vally, a right hand turn passed the San Pellegrino water company and along side a beautiful river into the Taleggio valley/ mountain (where they make the cheese)
The road snakes along side the river and a nice steady climb past some little mountain towns, steady grade with switch backs and after climbing for a good 15-20 K of climbing we crested the top and now what was left was a 15K serpentine decent that the Giro came down last year as well.
Back up to the hotel, a 1.5 K (probably close to 16% at some spots) climb with the finish line at the top, I think Kevin took the KOM points today . Good amount of climbing and a nice pace and everyone did great. We had so many great rides ahead of us, but this loop would probably top the list at the end of the week I am sure. Paolo knows the roads here like I do around us back home and this is something that will make this camp unforgettable and a life time memory for all us!
The hotel is super clean, nice beds in very quiet rooms and when you open a window you have an picture perfect view, even from the bathroom , how could you go wrong first thing in the morning -:)
With a courtyard restaurant it is the most relaxing place to eat and recover after the rides.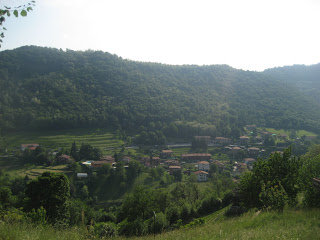 We have a balcony for our bike area, very private and a nice place to change and keep our bike stuff while over looking the valley.
Dinner is at 7.30 , but after having our R4 Endurox provided by Accelerade we switch over to R5 ( Vino Rosso ) , an amazing house red vine along with some fresh bread and about 10 different cheeses, so I am not planning on loosing any weight this week. Then dinner, antipasto ( all kind of thin sliced meats , cheeses, other specialty appetizers that we even never heard of ) The staple main course is for sure Casancelli ( a home made ravioli filled with meat known for this region) made right here in the Cascina Belvedi . The food here is unbelievable, everything is made fresh here and with a lot of pride. We sat at the dinner table for about 3 hours, eating and drinking wine, but not over eating just socializing and enjoying life.
Once done with desert and another plate of grilled meats -:) it was time to go to bed and get ready for another big day on the bike.
Ciao,
Roger