Last sun rise for us , early rise for the Shoot Out , the finally again for week # 3, the ride nobody really wants to do after riding 25-30 hours, but can not miss either after coming all the way out here ( bragging rights for the resume back home)
After some epic rides and climbs , sometimes walking up the hills ( just kidding) , laying down ( not kidding), wanting to turn around or just having a break
thru
ride this years camp is coming to an end and it is time pack up and get back to the east coast and start racing , again!!!!
Of course we have to take advantage of a beautiful afternoon and relax a little by the pool , before
having
pizza and beers to cap of a great week of training.
You would think my wife is Italian ,well she has been to Italy once ( does that count ??)
Every week we did the "Shoot Out " on the last day of the camp , a little race tune up before heading back home and an opportunity to ride with some of the Pros who are in town , Todd Well, some
Garmin
Pros and a bunch of Canadians that are not afraid to trow it down on this world famous group ride, you never know who you will see on this one !
Posing at Starbucks after some
Latte's
( or what ever they call it ) , Tucson is such a cycling capitol in the states for the winter months and this is where a lot of guys put in their base miles while it is snowing at home !
This picture makes me hungry ! The food was just incredible every day , it was my wife cooking all the meals, even I eat the same food at home it just seemed like everything here is so much better???
Did I mention , we have full
airport
pick and drop of and if you sent the bike out with us , all you needed was a bag of clothes for this camp and you were good to go ( notice how happy these guys are 5.00 am )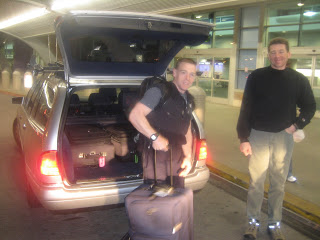 Until next time , AZ in the
rear view
and onto some new things !!
Thanks for following us on our FinKraft Training Camp , hope to see YOU out there next year!
Roger