I am on a plane to Portland, OR sitting next to the German. (Ralf) The bikes are in Wyoming by now if not even further by now. Hell of a trip for everybody with bad weather and lot of stuff to move across the country for a 45 min race. A normal beer dinking and cigarette smoking Joe would say this is insanity! I agree, what was even more insane was the New England Verge series consisting of 14 races all over the place.
I could have driven back and forth to Bend, OR three times with the amount of miles I racked up going to all those races chasing the over all series win.
I never even unpacked a lot of times; it was just wash what was covered with mud, clean the bikes and make a trip to the bike store and rebuild the headsets and bottom brackets. I did my best to keeping thing organized and still do my job coaching and riding with clients in addition to try to do some training and recovering myself.

The New England series or the "Masters World cup" like I call it. The competition makes this CX series the best in the country. Everybody has their ups and downs in a stretch of 14 races for sure and if you are not ON one weekend you better hope you finish in the top 10 and still get some points. The coverage on the various web sites all tells how it goes down each weekend , so you all know the stories by now. Some courses and weather conditions suit some riders better and from Sep to Dec Mother Nature will throw everything possible at you guaranteed. Every venue has double race weekends and that also affects the results sometimes, it is extremely hard to have 2 perfect races back to back. I think I was the only one who won both races one weekend (Vermont).
Well it went right down to the wire; I was leading by 10 points going into the last 2 races in Warwick, RI. I always feel like I am on the enemy's territory in New England, even though we are all friends and I even coach a few guys there. I am the guy to beat, no matter if I am winning or just fighting for a placing. Well it is no different to me either, I am there to beat them any chance I get, it does not matter if it is on the road or in cross.
I drove up the night before with the trailer in tow, since everybody who were going to the Nationals were going to be at this race and Kyle was going to take of for Bend, OR right after the Sunday race.
We raced hard again, Jon Bold was in control and I was hanging on for dear life to preserve my lead. I was close on Sat 5 sec off the whole race, but I did not feel like the same guy I was in Vermont 3 months ago. Sunday was even worse, lower back tightens up 1 lap to go and then it was game over, oh well! I won 5 races and Jon won 6, that was all it took to loose the series by 10 points. It is really hard to get to the top, but once you get there it does not become any easier, that is when the struggle starts to stay there. The last 2-3 weeks was a tuff period of time trying to stay motivated, recover and do the right kind of training for the fitness to stay at least the same or keep rising to yet another level.
I was winning races in March and had super form all throughout the summer with some really hard road races at the Pro 1 2 level, so when I am not beating the master's field in cross by a mile, something is going on ! Maybe tired????
Great season though, won a USGP race and 3 Mac races as well plus a lot of 2nd places (first looser) so no complaints. My wife has been super supportive, it is not easy with baby sitters and me being on the road every weekend. She works hard at her real job as a nurse and then works for FinKraft (as hard if not even harder) on her days off besides being a mom. To be a girlfriend or wife to a cyclist or any other elite athlete for that matter takes a lot. I grew up doing this stuff, but for some one to jump into a life like this with no racing life background it is probably the hardest thing to adapt for someone and really puts a relationship to the test. A topic I will write more about another time in the off-season, a very important part of racing that every single athlete experiences.
The bikes (Ridley) were fantastic and all the tires (Challenge and Dugast) and wheels (mostly Zipp and Mavic) never let me down either. The super flashy National Champ Kit by Verge stood out and drew a lot of attention for sure. All the other things that Mark @ Westwood Cycle supplied me with like gloves for example (a whole bag full) and the service and the 12 tires( did not roll one) Allan glued this fall for me is irreplaceable in racing at this level. Sports Balm, Uvex and Country Choice Organic products is what gave me that extra boost each week to do better and win. This is something we all should think about, if someone gives you something for free or even a discount on a product that helps you in any way doing what you love (racing). When the gun goes off, race a little extra hard and show that the support means a lot to you. This is sometimes the only way of giving back besides saying thank you!
The plane landed (finally), we are in Portland and it is 25 degrees! A 3 hour drive over Mt Hood and we should be in Bend, 14 hours later since leaving my house in NJ. I will write what happens in Bend (if anything) on the way back , I hope Kyle and Justin are getting close as well , we will need the bikes to race !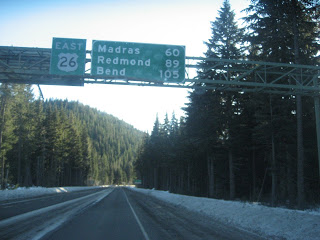 Thanks for reading,
Roger