After tossing a coin to decide if I should do the Pro 1 or the master beater race , well after all considered I signed up for the 40+ race . It is an expensive race , long trip and many days away from home , so we made it an family trip or a vacation race like my daughter called it.
Prior to this race we had a very tragic event happen in our Westwood Cycling Community . The son of our friend and teammate Gregg Cossgrove was lost in a swimming accedent and taken by the sea. About 15 of us at the GMSR all wore black "Livestrong bands" in memory of Chance.
Since I told Andreas to see if we could get the black bands I thought about winning the road race stage and dedicating the win on the highest point of the race to Chance. It seemed like that was the only thing ,besides wearing the bands and giving our prayers to Gregg and his family, that had any meaning still racing our bikes after something like this happened.
We were staying with Andreas, Monica, Joe, Trish , Eric and Bernadette in a ski condo on top of Sugarbush. Cool to just hang out and cook up a storm every night and not have to go out to some restaurant that you do not know what you will get. The weather was incredible this time , this was the 8th time I did the GMSR and probably the warmest it has ever been. I missed it one year when my daughter was born and that year it rained and was really cold. Lucky me!!
The TT is the first stage and the Master race does not go off until about 5.00 pm , so I had all day to chill and even go for an easy spin.It was easy until I had to ride back up the Sugarbush Access Rd , the gearing was a little off , a 46 is good on the TT , but not on this hill! Legs felt good , much better than the night before on our pre ride , I could barely keep up with Allan and Andreas . I knew a longer warm up was key on this TT , so I rode a good 45 -50 min on the road ( RT 100 ) and things started to fall in place . I knew I went too hard on the first part up the hill last year , so I held back a little and it worked out well . By the time I got over the top I felt nice and was able to really get on top of the 55 chain ring. The last K is brutal with the infamous "ditch" and a slight uphill the last 500 meters. I posted a 14.43 which was good enough for the win ! My good buddy Jon B took second this time ,21 sec back . In a TT you just go as hard as you can , try to gage your effort over the course to the max. No tactics , it is what it is , no matter what category you ride! Got the Yellow Jersey and dinner cooked by the girls. Yummy!!
Day 2 , the Circuit race is on the old course with the King of the Mountain and Sprint points at stake. We ride to the course and meet the girls there, quick wheel change , it is time for the Mavic Ultimates. Bling!! Troy wants the sprinters Jersey and Joe the KOM . I figure I probaly just help these guys and stay in Yellow. We do the lead out for the first sprint , no other team helps , but when we see the line everybody wants the points and go crazy. We missed that one ! KOM is next and we just keep it together and I let Joe take a stab at it , but I noticed he was getting swarmed by a bunch of guys , so I attacked them pretty hard 300 meters to go and got a hugh gap , so that was it , 5 points in the bag. Next sprint Troy got a few and I decided that KOM and a set of Edge wheels would become mine . 5 more points , exact same attack . It is all togther and Rob Lattenzi rolls up next to me , I told him to attack late in the race so we would not have to lead out or chase right away . Off he goes and two guys jumps on his wheel , shortly there after Max L takes himself out by overlapping Rob's wheel at the same time George Opria attacks and since he is in 3rd place in the GC I cover him . A couple more joins us Fred Thomas is one of them . There is a gap instantly and we have a break of 6. It is a head wind and we open the gap up quickly. I can see these guys are on the rivet , but it looks good . I have a teammate (Rob) so 1 K I attack them , but they are still clawing them self back , so I sit up and position myself behind the OA guys . I knew the headwind would be a factor and I waited . Mersee jumps and I get up to his wheel and now I knew I could win or at least lead out Rob . Win # 2 , 10 sprint points , 10 KOM points which means all 3 Jerseys, that is a good day! Ice bath and dinner, can not wait!!
Day 3 , I have only race about 5 masters races this year for a lot of reasons. I knew when we rolled down the neural hill onto RT 100 that this would be a painful ride either way how you looked at it. I rode on the front pretty much the entire race , if I would have not, someone would just rolled off and nobody would have cared , because they were to busy following the Yellow Jersey. I decided if someone was going to ride away they would have to earn it. I chased everything , kept it together on the Brandon Gap and got 10 more KOM points , so that was it for the KOM , since there was only 15 more left. Got in a few small breaks , but everything got chased down as quickly as it got away. Fast thru the dirt section , I do not know why ?? Right after we crawled up the Baby Gap, perfect place to attack , but nothing ! We get to the bottom of the App Gap. They should have just started our race there and skipped the first 73 miles , it was "who can beat Roger up the hill" . This where you get the time in this race and if nobody goes on the front and drills it , how is this possible?? You can race ( or hold hands) for 3 days and then loose it all in the Crit the next day with 45 sec time bonuses on the line. I also knew if we climb this 3k steady a lot more guys will hang on . Since 95% of the guys had sat in , somebody had to be fresh you would think. I surged on and off and by 2 K I was alone, now I just had to seal the deal ! I was too lazy to change my cassette out the night before , so 23 was the gear of choice! It was fine until the final 300 meter, 18% you know what I mean. Win # 3 ; This one was for Chance !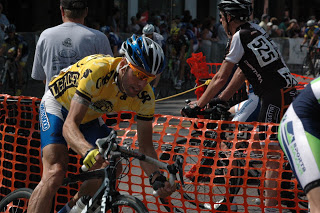 Day 4, The Burlington Crit.
We had to move out of our lovely bunk beds and once again pack up everything . It is a 45 min drive North to Burlington from Sugarbush. A really cool course in a really cool town overlooking Lake Champlaine. This is what most guys here just wait for all weekend , a 15 mile crit! I figured everybody was thinking if I would win the 4th stage and go after the Spinters Jersey as well. I acctually it crossed my mind , but Rob needed a few sec to get on the podium and Troy really wanted to win the stage, so just sat back a little to see what would happen. Man, if these guys would have raced like this all weekend it could have been interesting, it was fast! Rob got the seconds and one to go Mark Gunsales attacks and all the New Englanders was probably letting him go, I would have liked to as well ( Mark is a cool guy and a good friend of mine ) , but I have to ride for the team and help Troy try win the stage , so I got on the front at the first turn and let Troy loose at the last turn ( #6) , we would have needed Rob to take Troy a little closer, so Max L was on Troy's wheel (where Troy needed to be) and stole the show both from Mark and Troy. Oh well, it was close and good racing . There is always a bike race next week again, Bear Moutain!!!
Finley in the "Feed Zone " , no wonder I did not get a bottle!!!
The over all podium was actually really cool. The OA guys had brought a bottle of Champange ( I do not know if they had plans to win the thing or they just had a bottle on hand ??) Anyway I got to spary it around like the real deal and it was a nice touch !! Thanks Team OA!!
Now we just had to get that burger and fries at our favorite sidewalk cafe and watch the 2's got at it! This last day is such a nice race and town to hang out in , caps the great weekend off and you just do not want to get in the car and drive home for 6 hours! Oh well we will be back here again in 3 weeks for some CROSS, can not wait!!
Thanks for reading, more racing to come!!