Bikes make good clothing racks as well!!
It has been 3 weeks since Fitchburg and I have been sleeping in my own bed now for a few weeks. Yesterday was my first race back , Tour of Hilltown. I like to ease back into it , yeah right. Tour of Hilltowns are one of the hardest and most painful races around here due to the distance( 97 mile) and hills! A tall order for a 40+ guy.
Rewind a little , after Fitchburg which went Ok , raced the 35+ , I was maybe not as hungry to win as previous years, but by Saturday starting to feel back to normal . I managed to get 2nd overall and win the road race stage after the the National tabacle , so not all that bad ! In addition team Westwood Velo won the crit stage with Troy Kimball , now also coached by Finkraft!
Just a lots of ice baths and all the other trick you have to pull out of the bag to keep going!
I still did a few more days of training after the 6 days of racing and then pulled the plug. 4 days off the bike for some family time , wedding and chilling out in pool was a nice time and a big mental recovery. The body just does not like it all that much , it really does some wired things and even it is very good for healing , 4 days not doing anything makes you feel awful!
No comments!!!
Back to work and training , low intensity , just volume, 28 hours ( first day short and easy on the Power Cranks) and 7th day the Rocket ride to introduce some intensity back to the system. Felt surprisingly good and motivated again . More Power Cranks the second week , but recovery as well and only two longer rides one little faster one up to Bear Mountain with Andreas, Evan and Allan . Come Saturday recovered just in time for the Tour of Hilltown.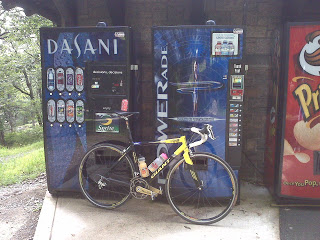 Powercranks , coke and BearMountain ……….life is good , but painful!!
A little race report , very fast as usual right from the gun and 10 miles into the 97 mile race a split in the field happens and I was not going to miss that!! Who ever did miss that one would be chasing a looong time ! About 20 riders with most team represented and the pace remained high. We built up a lead pretty quickly. The real race always starts on the second lap when we get to the BIG climb, a 5 mile wall . Dan Vallencourt, Mike Barton, Mike Margarite, William Goodfellow and myself separated ourselves from the rest and this was the race !! Funny 2 years ago , it was almost the identical break. Dan, Mike B and myself. Just 2 new guys . There was definitely a few spots of bother, like Phil Liggets says . This race is very hard at times and the suffering is unbelievable if you want to be there in the end. You always have good moments and next thing you know you almost get dropped. That is the time to pull yourself inside out and hope to come back. It happened a few times and I think that is when the experience comes to play. I think a probably felt the best 1K to go ( go figure) It was a tad to late because Dan attacked and got away 2K to go , he was no doubt the strongest in the break and I new he was the guy to beat. It was a 3 man sprint for second , I just got past on the line , but held on for 3rd . Not too bad for an old fart like Lance refers himself amongst the 20 year old fast men!
Now a day rest and spend some time with my daughter then an other big training block . I do not race that much in August because it is in September when it all starts , CycloCross!! Every weekend Saturday and Sunday until pretty much Christmas! This puts a lot of stress on everything that involves me , family, work, my body and even on my car! I am pretty excited , two new X-Nights are on order I am prepared more than ever! Before that still 2 more months of hard road races, this is the halfway mark !!
In training mode , this bike weighs at least 45 lbs , should meet the USA cycling standards!!
Thanks for reading again
Roger