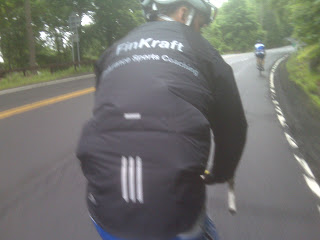 In my last post I promised to write about what is going on during the week. Well the plan was to get a short simi recovery from the Balloon and Highbridge and then train some more and finally a good recovery before the Giro ( NJ ) . Monday was a recovery ride and meet with a new client, nice ride perfect weather about 2 hours nice easy pace , not too hilly. Jocelyn rode well and I got a pretty good idea were she stands . To ride with someone make it much easier to build their training program , a big piece of the puzzle! Juan tagged along , he was in need of an easier ride as well and it is nice for a new client to get some input from an other client while riding as well.
Tuesday early start , 6 am TT workout with Evan and Andreas. We had 2 hours to spare and I happen to know a perfect loop for TT's that is exactly 2 hours. Love the Ridley Dean , perfect fit and so cool , worth getting up at 5.30 am !Easy start , still a little sleepy , but the ride picks up and we are starting to feel pretty good .The skies are really dark and it is just matter of time when we are going to get soaked !! The last 20 min it is pretty much pouring! Evan hits a pothole covered with water and hits the deck . Luckily just a few scratches ! Then rush to the Gym to train 3 guys , that is a thing I did since I started my coaching business, nice connection to the gym and little side income . I am now established with do coaching and really pressed on time , so I would not really need to do any PT anymore , but to leave these guys hanging is hard for me !
If you think my days are just riding and then watching Versus and Universal Sports, think again! From about 6.30 am to sometimes 10 pm I answer e-mails, phone calls ,analyse files and build training programs . In addition to the coaching I am constantly helping build a web site , sales and sponsor product development. Thank God I have my wife doing the books and Andreas handling a lot of promotional and sales stuff! Most recently I have hired an assistant coach , Kyle Wolfe. He will take on some new clients from now on and also does some other computer work taking the load of me a little and making this operation work more smoothly! The last thing I would want is take the personal attention away from each client, no matter how busy it is , that always comes first in this business, that is way they hired a coach in the first place anyway ! Besides all this I am a dad and husband > you all know what that means!
Wednesday is the standard Group ride from Westwood Cycle. This week we decided to step it up a little and ride to Perkins Dr (Bear Mountain) I told them we would go hard on the climb, so I guess everybody figured the best thing was to sit in all the way up to the base of the climb, so I just stayed on the front for about 2 hours or so, good pace for me and fit my plan perfectly. Believe it or not I have a training plan as well, not the most sophisticated one, but a plan!
Rode the big ring to the gate, pretty nice speed , still fast to the top, but could have gone faster if I had to . The price on top is the Coke , that makes the whole ride!! Shatt a little about how epic this ride is and put the rain jacket on and down we go! The ride back was fast as well and now everybody shipped in , the last 30 min was almost like a race and very good tactical training for the guys. Even a sprint finish! A great performance from everybody , some of the best numbers for some of the guys during training. Did I mention that it rained almost the whole time. Epic !!!!
Thursday same ride a little different route and I hope a different pace as well! It was slower and more civilized than the day before, but Evan was still throwing it down on Perkins, very impressive riding for the kid , 19 and 130 lbs . He certainly have the ambitions to make it ! Still felt good and even I had the NJ Masters RR on Sat ( that would be the end of this living on the edge training block) I rode pretty hard not too worried about being spent on Sat!
Friday , easy ride with my older client Bill. We ride together every week , a nice loop and nice pace for both of us , Bill enjoys it and it is an important thing to me as well. We stop at the bike store to pick up a wiring harness for an SRM I was installing for the State 40+ TT Champ, Mark P. The ride went smooth , besides almost getting killed when Bill run a red light in a four lane intersection, a weekly thing with Bill , makes things exciting , I call it the Russian Rulett!!
After this ride I had promised to ride with one of my Juniors Eli M. Anthony D came along as well. Met them at the new Strictly shop in Fort Lee. Nice easy ride on River Rd , then up on 9 W to Piermont and turn around . On he way back we did 2 leg openers ( like I needed that ) , but it was good for them since they were racing the next day like me. Done for the week , nice dinner with my wife and daughter and to bed !
4.00 am wake up call , why do they have to have 40 mile race start @ 7.00 am in the middle of nowhere???? I won this race 4 times in past years, so what was my objective today, I do not really know !! I sat in , a break went , sat in some more . Then I attacked on the same place I have attacked the last 4 years , bridge to he break . Troy and Mike R from Northeast Hardware got there too. The wind was immediately lost out of break aways guy's sails, and there was a big panic in the break. What do you do then ? Get caught by the field or attack again ! I chose the later option , split the break to 5 guys with my team mate Troy in it , great this is it, lets commit!! We rotate a few times , I pull thru and Mike does the same , who is next , there is nobody there, what happened?? Mike seems like he wants to go , so we went and the other guys just faded, I was very surprised!
Me and Mike rode around the two remaining laps , I am noticing that Mike is spinning an easier and easier gear and is taking shorter and shorter pulls , so we get to the famous climb and I flick my arm , Mike does not come thru , it is go time , seal the deal!! I would have attacked him there anyway , it would just have been much cooler to attack from behind , but oh well I accelerated off the front and there was a gap and I hit it again , good enough. Little tail wind towards the finish and one more hill, just in case ! Mike chased , that I thought he would. He is a very experienced rider and someone like him does not give up.
I made it over the finish line for the 5th time in first place. Since this race means a lot to Westwood Velo , for some reason , I was very happy to pull it off! Congrats to everybody on the team as well!
Sunday morning I had planned to go and watch my wife race the Harriman duathlon. I got her bike ready the night before and she got the really cool new Westwood/Finkraft trisuit , she was pretty excited . It was her day and I was not racing ! Me and Finley were ready to support, I thought my daughter a few slogans to yell out , like slowpoke, pass somebody , go faster, put it in the big ring and etc.
Nice race, I have done it a few times in the past and there was a lot of people I knew , some of my clients were there too, so it was fun to watch ! My wife was killing it on the first run and almost stayed with the boys, the bike is her weaker link, she only really rides her bike when she does these races, maybe that is what I should do too, seems to work for her! She looses a spot on the bike leg, but makes it up on the second run and wins the overall women's duathlon !! Impressive , now if she only rode her bike a little more she would be unbeatable !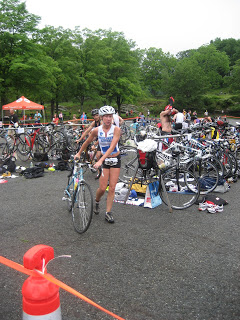 Then we were so excited to get her on the podium , but after all this , I guess the scoring company pressed the wrong button and messed up big time!! No awards and nobody got to know what their placing was! If this was a bike race , someone would have gotten killed, but not this crowd , they just quietly went home , after all it was only $ 60.00 to enter or more?? so no big deal! We got some stale bagels and a banana . It was fun, but a wooden plack would really have made our day !
I get home , my back is hurting in a wired way and I have the chills. I am getting sick!! Today is Tuesday , I have not ridden my bike since Saturday and the Giro starts tomorrow , does not look good!!
Thanks for reading again