Tour of Highbridge is probably my favorit New Jersey race now , since they do not have the Park Ridge one anymore!! A legbreaking hill , short but steap, when you have to go up it 11 times it becomes long and steap . A 3 mile loop with almost a "pave patch job" section and a screaming down hill into an s-turn , you would not think , you would see a sprint finish ! All the years I have done it it has always been a break , but almost never a solo break > I have always been there at the end, but always got beaten too > 2nd ( a couple of times ) 3rd (a couple of times ) ,4th ,5th ……
I raced the Ballon festival race the day before > I saw a balloon truck , but never seen any balloons there??? It is the same place as the Battenkill race was held this spring , but this one is a different loop , this year a shorter version due to constraction , so that meant 6 times up the feed zoone climb , lot of eating and drinking! I overslept this morning and 5.15 Evan was banging on my door! It takes 3 hours to get to Cambridge , NY and the Pro 12 starts at 9.25 > so now we need to hustle > I even managed to cook up some Country Choice oatmeal , take it to go of course with some green tea. Pick up Landino and further up the the road Andreas. My new GPS says we should arrive at 8.48 am , so that would leave us 30 min to get ready , not bad . I do not belive that thing anyway , so no sweat!! We get there at 8.49 am , I guess I was driving a little slow!
There is a few fast guys > Will Dugan and Josh Dillon with his team mate Justin Lindine and about 12 Spooky/Kenda guys. Well, the hill was the race !! Will and Josh drilled it up that thing every lap and I was the only guy that could hang . Race came together a few times after the hill , but on the 5th time up that was it for the rest of the pack , one guy amased me from Spooky , he managed to hold on!( young kid forgot his name , but nice ride) The last lap was no different and now the Spooky got dropped ( that hurt , if I only was 21) little cat and mouse game on the way into the finish , but nothing happend ! I figured if I get a jump on them two before the last turn I might have a shot, NO Will gets me before the turn and NO , Josh beats me on the line ! 3rd place > I am Ok with that, it was not that hard of a race , besides the hill , so I might feel simi good tomorrow ,I was thinking!! I found a 1966 bolwing throuphy on the side of the road , rolling back to the car > the guys thought that was the 3rd place price > pretty funny ! What was not funny was that I actually got a flat during the race > the wheel van would not give me a wheel , ( supposily I did not put a wheel in , go figure ! Luckily about 80 psi remained in my tire ,thank good for the sealant!! I finished the race and even sprinted !!
3 hours back and legs in the ice barrel , feeling pretty good ! At least I get to sleep tomorrow , race does not start until 1-2 o'clock!! Jehaaa!!
My wife and daughter comes to Highbridge . They have a play ground there and it is a nice mellow park to hang out in and watch the race . If your are not fit or like to go uphill , this a race would most likely be the one to skip though!!
Empire, Kelly Pro Team, Champion System, Jittery Joe U-23 team, Van Dessel and North eastern Hardwear had 4-5 guys , all pretty fast ! Then there are a bounch of other guys from smalller teams and it is just me , myself and my Giant again !! The first part of the race is hectic, as it should be , but for me not to miss the break that will form sooner or later I have to cover everything !! First lap 50.00 ShopRite prime !! I get in break right away , so why not go for it , I take it , now we can finaly get something to eat!!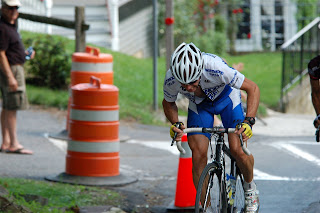 Attack , attack , attack and one more and 3 guys gets away ! Next time up the hill Gavi attacks and me , Nick Bax and a Jittery Joe guy gets on , we bridge to the other 3 and now we are 6 > every important team is there> perfect , that is the move !!! Everyone knows that and does not really miss a pull > we drop Gabe from Van Dessel and we are 5 left! Every guy in the break is under 25 years old > I do not want to bring them to the line , so I wait until 2 to go and it is all or nothing up the hill> I drop everybody except Mike Margarite from Empire> we know each other and I do not think his wants a sprint finish either , so we work pretty good together > no more attacks . I time my last pull pretty close to the finish and get Mike on the front! There is a head wind ( I noticed that 9 laps ago ) so wait!! Mike seems to believe that he can beat me 250 meters out and goes very early , I wait as long as possible and gets by him , scooooore!!
Perfect tactics and my wife and daughter got to see me win !! The only dissapointment was the price money> $ 100.00 for the win , after all that > I have gotten $ 250.00 for second there before> oh well , enough for pizza and beer!!
I finished yet an other race on a soft tire , two flats in two days > still won the race I always wanted to win as a Pro 12 !!
This post is about racing, yeah bla,bla, bla> I will try to write a litte about what is going on during the week > working and training > eating and sleeping next time , sound more exciting right!!
Tube tops are in again !!! Even I had a bike lenght at the end it was not enough time to zipp up!
Thanks again for reading !!